Repair. Regenerate. Restore.
The importance of collagen is well understood within the medical industry. Collagen-based regenerative matrices have been widely used in applications such as drug and other biologics delivery and wound healing. However, for soft tissue repair, the historical challenge of collagen-based implants has been creating a graft with sufficient biological and mechanical performance. Embody is leveraging our creative chemistries and improving upon two separate advanced additive manufacturing platforms, electrospinning and microfluidic extrusion, to address these prior limitations.
BIOSPIN™
Microfibrous collagen bioengineered implant for soft tissue augmentation with biomechanical performance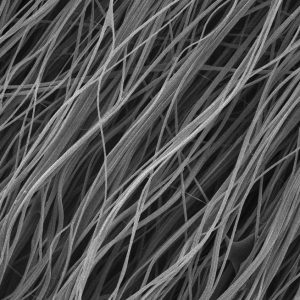 BIOSPIN,
 a hybrid electrospun / pneumatospun medical device with highly organized, highly porous collagen-based microfibrous implants designed for soft tissue augmentation.  The BIOSPIN platform technology is used in our TAPESTRY
™
Biointegrative Implant for tendon augmentation.
FABRITEC™
Microfluidic biofabricated implant based on precisely controlled molecular assembly of collagen microfibers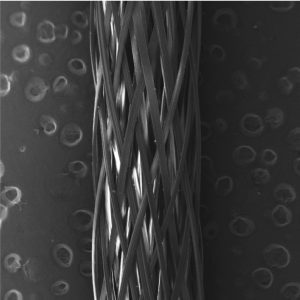 FABRITEC,
a high-output microfluidic wet-extruded implant of clinical-grade collagen manufactured from the molecular- through product-scale, combined with a proprietary natural crosslinking chemistry, to produce high-strength pure collagen microfibers.  The microfibers generated can be further manufactured into biological textiles, as found in our MICROBRAID
™
and MICROBRACE
™
products.

---
TAPESTRY Biointegrative Implant is the first collagen-based implant with a bioengineered micro-architecture and bio-stimulative, highly organized Type I collagen chemistry specifically designed for tendon repair. TAPESTRY's proprietary physio-chemistry demonstrated dense collagenous tissue in-growth.
 Learn more about the first Embody FDA cleared product, TAPESTRY.


---
TAPESTRY RCR* incorporates the TAPESTRY Biointegrative Implant with a novel delivery and fixation system for the augmentation of partial to full tear rotator cuff repairs via 510(k) pathway in 2021.

---
MICROBRAID* high-strength, collagen orthopedic suture line capitalizing on the strength and remodeling enabled by our FABRITEC technology.

---
MICROBRACE* leverages a collagen orthopedic suture with a full implant and instrument solution for extra-articular applications.
* This product is not cleared by the USFDA for commercial distribution of sale in the United States.
Embody patent information is provided to satisfy the notice requirement for the virtual patent marking provision of the America Invents Act. The following list may not be all inclusive.
US 10,966,815
Enclosure Device for an Implantable Repair Device
US 10,835,639
Bioploymer Compositions, Scaffolds and Devices
US 10,653,817
Method for Producing an Implantable Ligament and Tendon Repair Device
US 10,617,787
Biopolymer Compositions, Scaffolds and Devices